TOKYO – Maria Margarita "Marga" Nograles is the new Chief Operating Officer (COO) of the Philippine Tourism Promotions Board (TPB), the marketing and promotions arm of the Department of Tourism (DOT).
Marga was appointed member of the TPB Board of Directors in an appointment letter issued by Malacañang and released in September last year. She was later elected into office in accordance with the GOCC Governance Act of 2011 and Tourism Act of 2009.
Prior to her appointment, Marga is the owner and proprietor of Kaayo Modern Mindanao, a clothing and accessories brand showcasing a curated collection of traditional weaves created by artisan women in Mindanao.
Marga's love for culture and fashion combined made her realize a potent medium of advocacy to provide a sustainable livelihood for women and artisans and establish a creative platform to showcase the world-class weaving craftsmanship of the Philippines.
Born in Davao City, she spent her school years at the Ateneo de Davao University, and graduated with a degree in AB Interdisciplinary Studies, Major in Management and Communications.
Since then, she has been involved in fashion and retail, with her being awarded the exclusive sub-distributorship of Havaianas in Southeast Mindanao in 2005 paving the way for her entrepreneurial journey.
Last December, Marga visited Japan to attend the highly successful Philippine Business Mission (PBM) 2022 held at the Ritz-Carlton, Tokyo where she sat down with Filipino-Japanese Journal (FJJ) to talk about her journey as an entrepreneur, and how it equipped her for her current role at the TPB.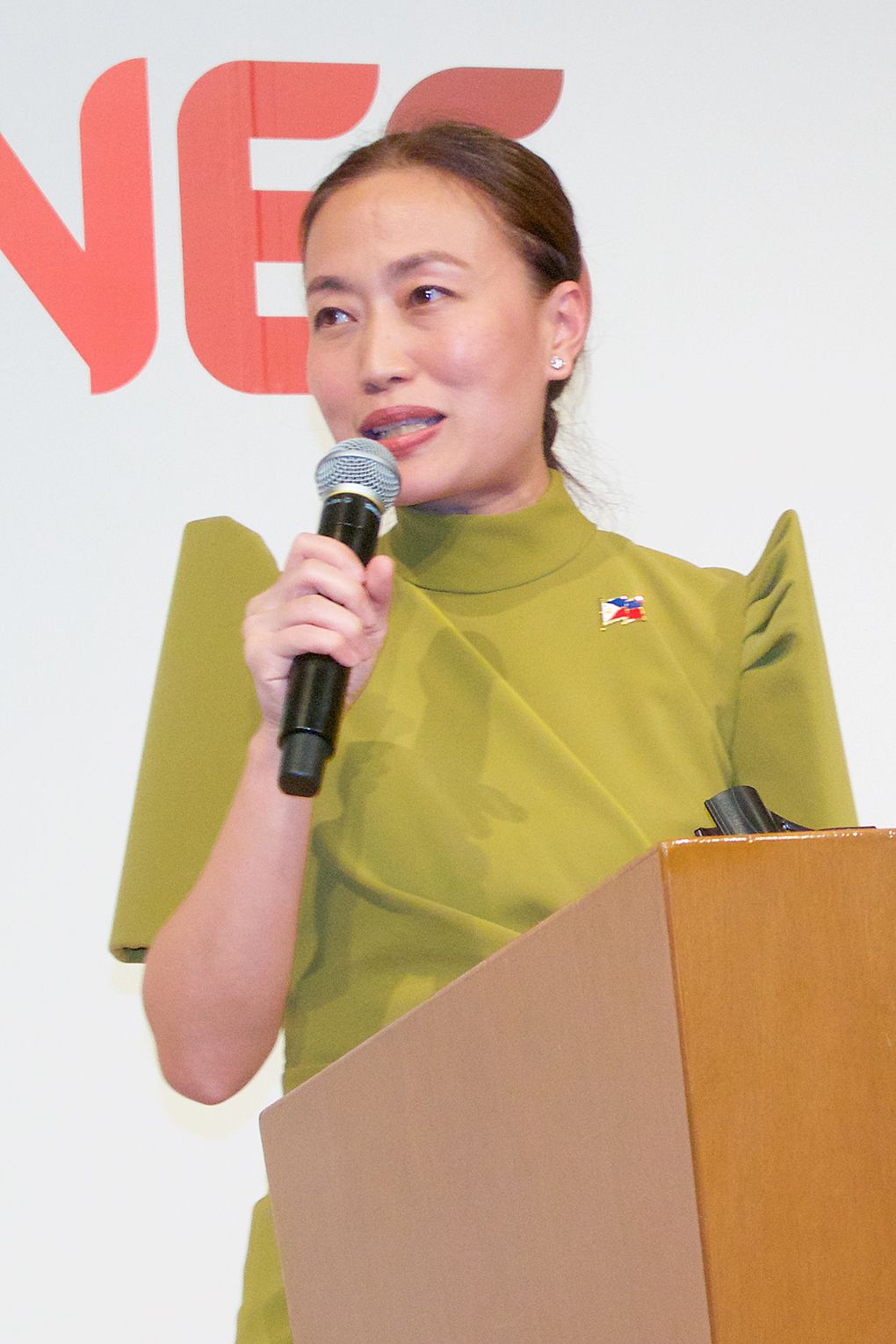 Q: Being a recognized entrepreneur, how do you think this will help you in your new role at the TPB?
A: I'm new at the TPB. Before I started, I set up my own social enterprise, it's called Kaayo Modern Mindanao. So kaayo means kindness in the Visayan dialect. In Kaayo, we work towards creatively crafting sustainable livelihood for our indigenous communities in Mindanao, while also creating a platform to promote the island as a destination. When the secretary asked me to take on the position as the COO of the TPB, at first, I was overwhelmed, but when I started, I realized that it's the same thing, just in a bigger platform. Now at the TPB, I'm creatively finding ways to bring more tourists in the country, ultimately, to give livelihood to our people.
Q: What inspired you to provide livelihood to people?
A: My mother, Baby Maceda Montemayor, has devoted her entire life for the love of tourism and trade for Mindanao, in Davao. The people at the TPB have also devoted their lives to tourism. Many of them know my mom, and they love her because that's her work of life. So for me, I was exposed to that all my life. She also did a lot of volunteer work for our indigenous communities. When my husband Karlo was still congressman, people would come to my office to ask for help. Sabi ko sa sarili ko, hindi naman sustainable ito. So from there, I realized how from nothing, they suddenly are able to create and have their own business. They are empowered pa! I always say we have so much talent in our communities kaya I always say paglaban niyo 'yan! It became my work of life also.
Q: Was it difficult for you to give up what you were doing when you accepted the post at the TPB?
A: Yes, I had to think long and hard about it. So for Havaianas, I'm lucky that my team of 17 years who has been there is strong and empowered and kaya na nila without me. In Kaayo, just a little harder because again that was my passion project, baby ko 'yun eh, akin yun eh! But I learned, and I'm happy to realize now that I'm doing the same thing so it's great. I'm happy to be where I am.
Q: What is the importance of the Philippine Business Mission (PBM) in Japan?
A: The PBM is an institutional event. It's been operational for maybe 14 or 15 years already. It is really a platform to be able to strengthen our relationship with the Japanese market. I believe that collaborations, conversations and partnerships are very important. It's important that I come here, I talk to you, I listen to you, you listen to me. So because of that, we are able to strengthen our relationships. Our goal is really to, pre-pandemic I think Japan was number four in tourist arrivals in the Philippines, make that higher pa.
Q: What are our new product offerings to the Japanese market?
A: Four things: First our sun and sand, our beaches. Over and above that, we are also looking at our hidden gems. We have more than 7,600 islands, so many beautiful destinations. Next, health and wellness. We have so many young, dynamic and amazing doctors. Then, the English language. We're still I think number one. We would love to craft programs for the Japanese market. Lastly, retirement. We're looking to set up more retirement opportunities in the Philippines.
Q: How do you plan to sustain our Japanese tourist arrivals?
A: Like I said, constant conversation and familiarization trips (fam trips). Something always has to be happening. Sec. Christina Frasco of the Department of Tourism (DOT), as part of her seven-point agenda, is looking to push comprehensive digitalization. So online marketing promotions, partnerships and partnerships with brands in Japan. Everything is online na eh so we're looking to strengthen that.
Q: Overall, what is your projection about the Japanese market?
A: We're hoping to go back to the same numbers in 2025. Right now, we're still at 12 percent vs. 2019 pre-pandemic numbers. That's around 3.7 percent of tourists coming in to the Philippines so we're looking to raise that especially, hopefully after now, slowly, we will see the recovery that we want to see.
Q: Do we have programs for overseas Filipinos?
A: Yes, actually, we have the "Bisita, Be My Guest (BBMG)" program. It's an incentivized program wherein if you come visit the Philippines with a friend then you have discounts, promos and raffle prizes. There are so many benefits if you have the BBMG travel passport.
Q: What can you say about the Japanese hospitality, and what qualities do you think we can emulate from them?
A: I was told that the Japanese have that omotenashi culture wherein they wholeheartedly give to serve, they wholeheartedly take care of their guests. More than expectation, care is their focus. I think that's very much alongside our people – the warmth, creativity and hospitality of our people. I think we're unique and the same in that way. So as we collaborate and forge partnership, we can learn from each other, and together, we're stronger.
Q: So far, how is it working as TPB COO?
A: I'm so inspired and so very grateful for the opportunity to be here and the opportunity to serve. My life is my work, my work is my life because I think my husband and I made that decision to commit to serve our country no matter what so our children see that and more than anything else, they are inspired by that. So that's the life we live. How lucky am I that I'm living a purpose that I'm passionate about.
Q: Why do we have to visit the Philippines?
A: Naku, umuwi na kayo. Come visit. First, we're so rich in our cultural heritage and we have so many stories to tell. The Japanese tourists, we invite you to come, help us take care of our home, learn about us. We will teach you, as we learn about you also. Come, we will take care of you. - Florenda Corpuz
(Article cover photo by Din Eugenio)