ALBAY – The Japanese government has extended its generosity by donating 300 metric tons of rice to families impacted by the unrest of Mayon Volcano in the Philippines, operating under the framework of the ASEAN Plus Three Emergency Rice Reserve (APTERR).
During a ceremony held on Thursday, Japan, represented by its embassy in Manila, formally handed over the rice donation to aid Albay evacuees.
Albay Provincial Governor Edcel Greco Lagman gratefully accepted the rice donation, which will be distributed among families displaced by the turbulent activity of Mayon volcano.
Minister for Economic Affairs Daisuke Nihei was present at the turnover ceremony, emphasizing that Japan's donated rice will promptly reach the affected families, providing essential sustenance and hopefully catalyzing revitalization.
Also in attendance were Department of Agriculture Senior Undersecretary Domingo Panganiban and APTERR Secretariat General Manager Choomjet Karnjanakesorn.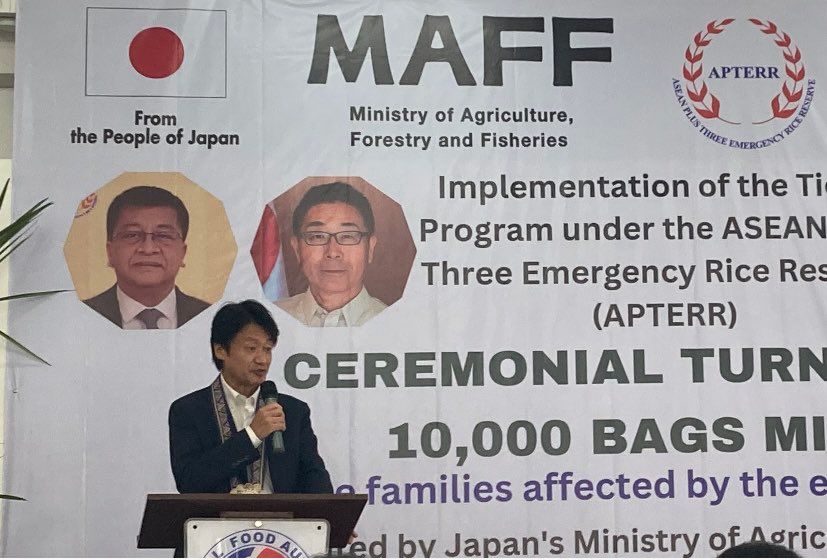 In a tweet, Japanese Ambassador to the Philippines Kazuhiko Koshikawa expressed his hope that the compassionate spirit of the Japanese people would resonate with the affected families in Albay.
According to the National Disaster Risk Reduction and Management Council (NDRRMC) report dated Aug. 10, a total of 9,876 families, comprising approximately 38,961 individuals across 26 barangays, have been affected. Presently, 5,371 families are being accommodated in 27 evacuation centers, while 418 families have sought refuge outside of these centers.
Japan is the biggest contributor of APTERR rice in the Philippines.
The APTERR initiative, established in 2012, fosters regional cooperation aimed at enhancing food security, alleviating poverty, and eradicating malnutrition within its member nations. - Florenda Corpuz
(Photos courtesy of the Embassy of Japan in the Philippines)