TOKYO – No other Hollywood star has visited Japan more than Tom Cruise did.
The 56-year-old actor made his 23rd visit to the country to promote his new action film "Mission: Impossible – Fallout," the sixth installment in the long-running MI film series.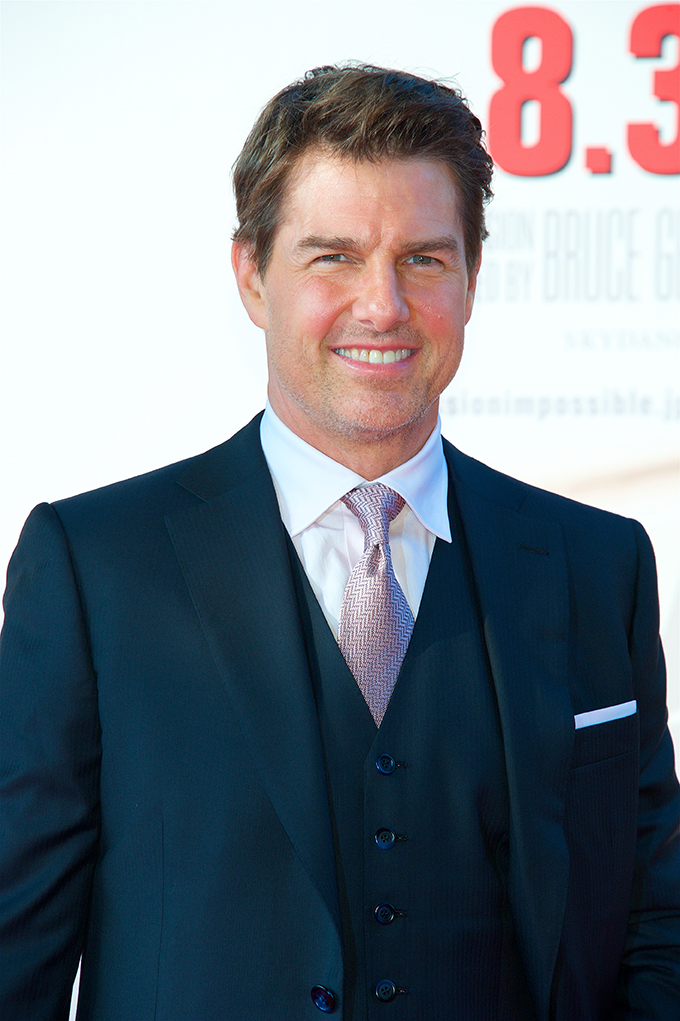 He arrived at Haneda Airport last July 17 together with co-stars Henry Cavill, Simon Pegg and director Christopher McQuarrie.
Cruise, who reprises his role as agent Ethan Hunt in "Fallout," attended a press conference and photo call at The Ritz-Carlton, Tokyo on July 18 together with the three.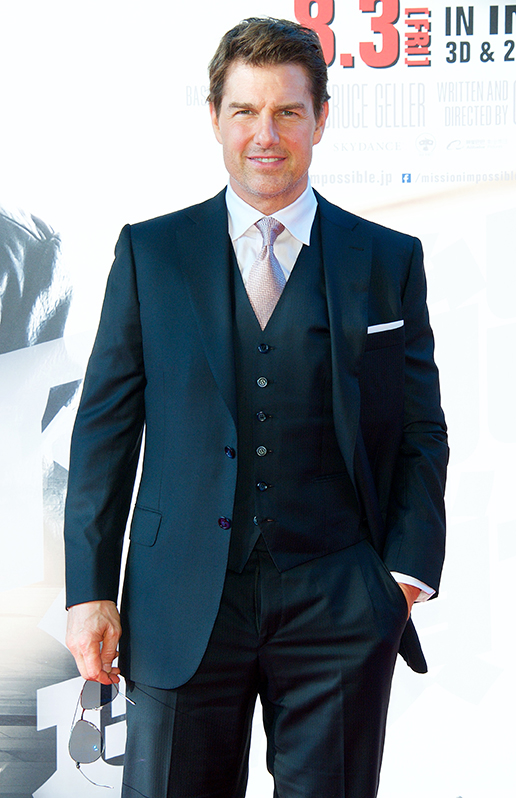 "It's so great to be back in Japan. This is my 23rd visit to your country. And it's just amazing to me. I feel very at home here. Thank you so much for having me and my friends. We're excited to bring you Mission Impossible," he enthused.
"So you wanna hear about my broken ankle? It really hurt," he told reporters.
According to Cruise, who suffered the injury while filming a scene in which he had to jump from one building to another, he knew it was broken the moment he hit the wall.
"I picked myself up and ran past camera. It's in the movie. All those shots are in the film. And then I went back quickly to my tent, talked to McQuarrie and said, 'I'm sorry but my ankle is broken,'" he narrated.
Cruise revealed the doctor told him he might never run again. But six weeks later, he was back on set to finish filming the movie.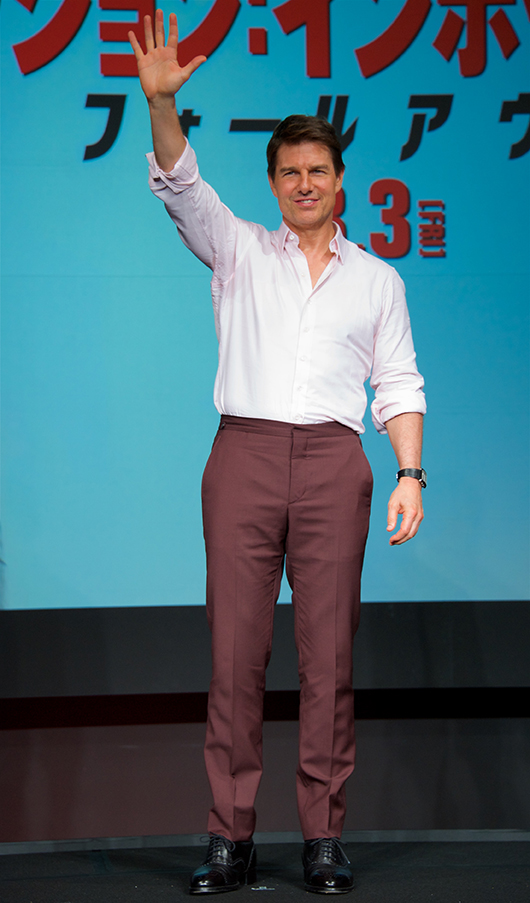 "The doctor said he didn't know much about movies and he was like 'well, you know you're not going to be shooting for a very long time and I don't know if you will be able to sprint ever again, but at least not for six to nine months.' And I said 'I'm gonna be back at work in six weeks.' And he looked at me and I said, 'I'm gonna be back at work in six weeks.' And I was back at work in six weeks. And I was sprinting in 11 weeks, but I was climbing the mountain in nine weeks in Norway for the end scene."
The "Fallout" star also shared details of how they pulled off the HALO (high altitude low open) jump stunt.
"It was very intense doing the HALO jump. It was the last action sequence that we shot, very complex to figure out. McQ designed it, and then I was trying to create it live. I really didn't have that many skydives before I did it. I trained mostly in the wind tunnel in between sequences. We shot in Abu Dhabi because they gave us a C-17 that was very helpful. We could not have done the sequence without the help of UAE."
As stated by the actor, the helmet that he used for that scene took more than a year and a half to be developed. It had to be scientifically tested so that he could take in some oxygen without causing any fire or damage.
"We had to do hours of breathing up in the airplane before we hit 25,000 feet doing oxygen breathe up. We had to pick the perfect time, and we had a window of one minute to get the shot. We were only able to film once a day. Any mistake, the take was no good. We also had to figure out how to shoot it, it's never done before."
"It's just so exhausting doing it. It took over 106 jumps to get three shots," he shared.
As for his helicopter battle with Cavill, Cruise described it as "challenging, exhilarating and terrifying, but really amazing."
"McQ and I are always talking about doing a helicopter scene. So I trained for one and a half years before shooting it,"he divulged while admitting that his movie "American Made" is a warm up for "Fallout."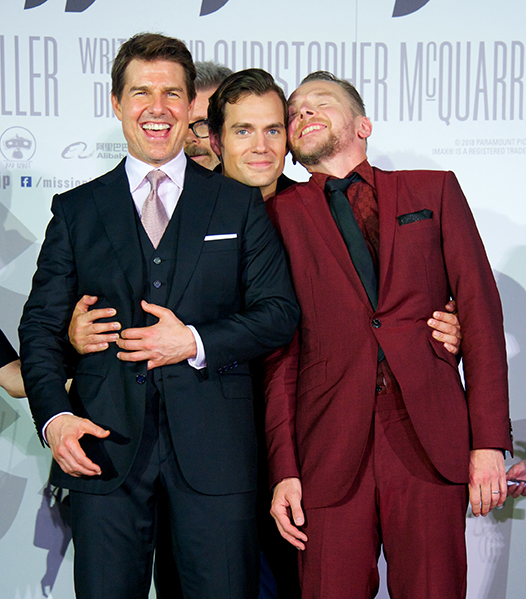 "With helicopters, there's no room for error. With an airplane, I can take it up and I can take it to a stall so I can feel where it is and how it is going to behave. And that's what I do. Every piece of equipment in the movie, I'm testing. Whether it's a motorcycle or car just so I'm wearing it, it becomes a part of me. With the helicopter there's almost no stall. When it goes, you don't recover it," Cruise, who already shot three aerial sequences for "Top Gun," "American Made" and "Fallout," said.
He attended the film's Japan premiere that same day at Tokyo Midtown Hibiya together with Cavill, Pegg and McQuarrie.
On stage, Cruise's fellow actor Cavill said that it was a "true privilege" working with him.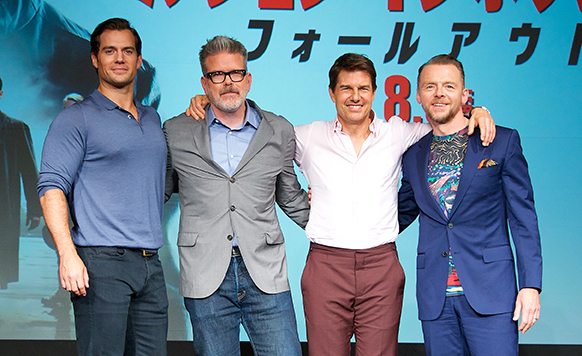 "He's a kind man. He's a generous man, and he's extraordinarily talented, and he showed me just the level of what you can do for the audience. Every single step he takes on set is for you guys to make the experience the best experience possible."
McQuarrie, who has worked with Cruise in nine movies, also expressed his admiration for the "Fallout" lead star.
"Tom was injured while we were making the film. He broke his ankle about halfway through making the movie and the doctors told him it would be nine months before he could possibly think about running again and he may never run again. And you'll see him running in this movie. He has this fantastic foot chase through London and he broke his ankle on the first day and every single shot in this foot chase he was running on a broken ankle to entertain you. Yes, just remember that when you're watching the foot chase, every time he steps on his right foot, in your mind I want you to think 'awww!' This is the hardest I've ever seen him work."
Cruise wrapped up the night by thanking the press and the audience who endured the summer heat just to see him and his "Fallout" team.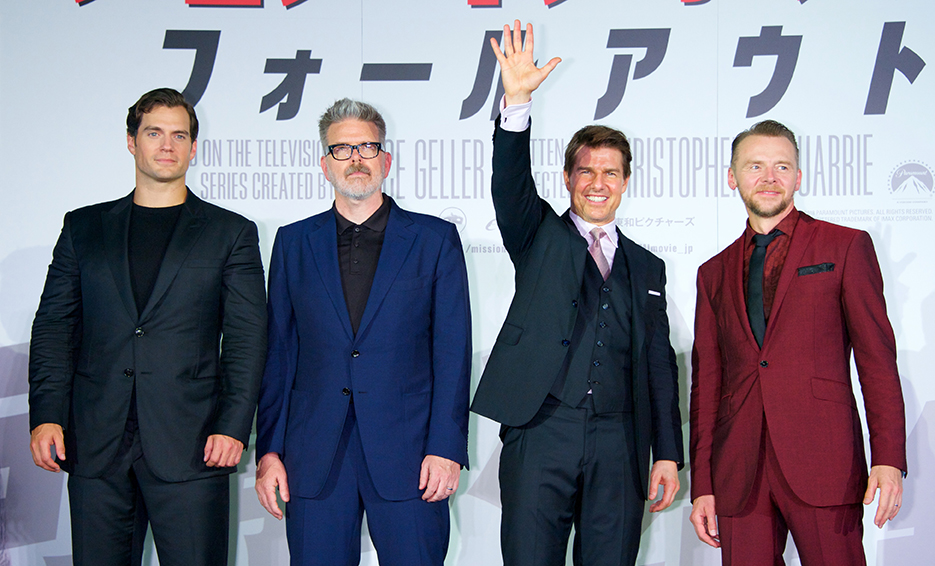 "It's always fast [my trips] but thank you for the warm smiles this evening, for the lovely gifts and always for the wonderful conversations. I'm very honored. Thank you," he said.
"Mission: Impossible – Fallout" was released in Japan on Aug. 3.
*Oct. 10 has been declared as "Tom Cruise Day" in Japan by the Japan Memorial Day Association honoring the fact that he has visited the country more than any other Hollywood star.
This article was originally published in Filipino-Japanese Journal August 2018 issue.
(Words by Florenda Corpuz, Photographs by Din Eugenio)