TOKYO – Philippine President Rodrigo Roa Duterte has wrapped up his four-day working visit to Japan where he addressed a conference and a business forum, and met with Prime Minister Shinzo Abe and the Filipino community.
During his working visit last May 28 to 31, the President spoke before the Japanese and Filipino investors during the signing of agreements between Philippine and Japanese businesses at the Palace Hotel, and expressed his elation over the strong intention of Japanese business entities to invest and expand their operations in the Philippines.
He promised a "competitive and corruption-free business climate" in the Philippines.
"May I just assure you that during my time, I said there will be no corruption. And every Japanese investor in my country—however small, however big—I can assure you that if there's any complaint regarding hindrances, obstruction, or outright corruption, let me know," the President told the businessmen.
He also met with the Filipino community in Japan.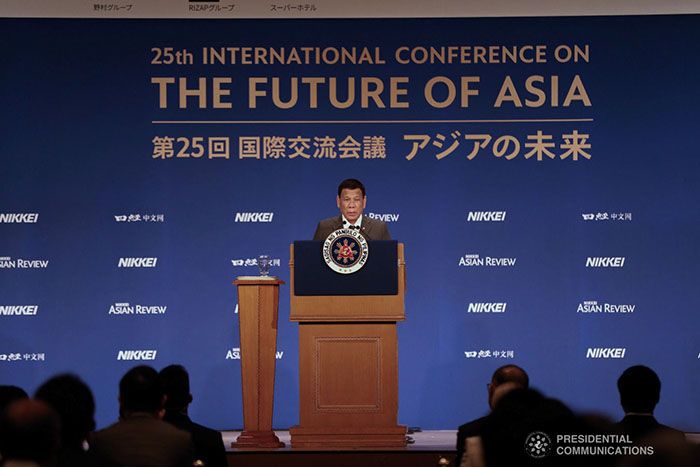 At the Imperial Hotel, Duterte gave a keynote address at Nikkei's 25th International Conference on the Future of Asia on the theme "Seeking a New Global Order—Overcoming the Chaos."
He wrapped up his working visit with a bilateral meeting with Abe.
"I thank Prime Minister Abe for the importance his government attaches to Mindanao and its commitment to achieve just and lasting peace and a sustainable development for the people of Mindanao," he said during the joint press event with the Japanese leader.
In his meeting with Abe, the President said among the issues discussed were modalities for greater cooperation in upgrading the Philippines' defense capabilities, including maritime security and maritime domain awareness.
Both countries explored opportunities to tap the Philippines' demographic complementarity to drive growth in their economies, including the possibility of Japan opening its doors to foreign skilled workers.
He also welcomed Japan's support for the government's flagship "Build, Build, Build" infrastructure program.
Other challenges were also tackled during the bilateral meeting including regional maritime security, non-traditional threats, the Korean Peninsula peace efforts, free trade, and the advancement of rule of law.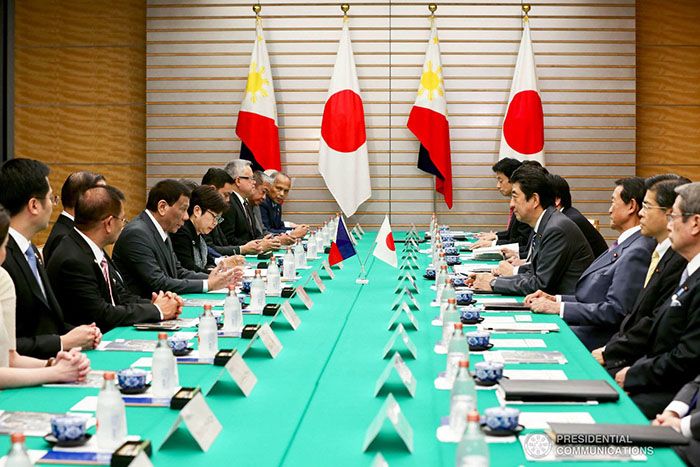 The President also conveyed the Filipino people's deepest respect and appreciation to Emperor Emeritus Akihito.
With the accession of Emperor Naruhito, the President expects renewed confidence that Japan's ties with the Philippines and with the rest of the world will be characterized by beautiful harmony.
Duterte returned to the Philippines with P288.894 billion worth of investment pledges from Japanese investors and P12 billion aid from the Japanese government to help fund development projects in Mindanao. This was his third trip to the East Asian country as president. - Photographs courtesy of Richard Madelo & Karl Norman Alonzo/Presidential Photos