TOKYO – A total of 56 artworks from 56 participating Filipino artists were displayed at the recently concluded "PinTokyo: Contemporary Philippine Art Exhibition" held at the Hillside Forum (Hillside Annex F) in Shibuya.
The exhibit, held from June 20-24, was part of the celebration of the 120thAnniversary of the Proclamation of Philippine Independence and the 157th Birth Anniversary of national hero Dr. Jose Rizal.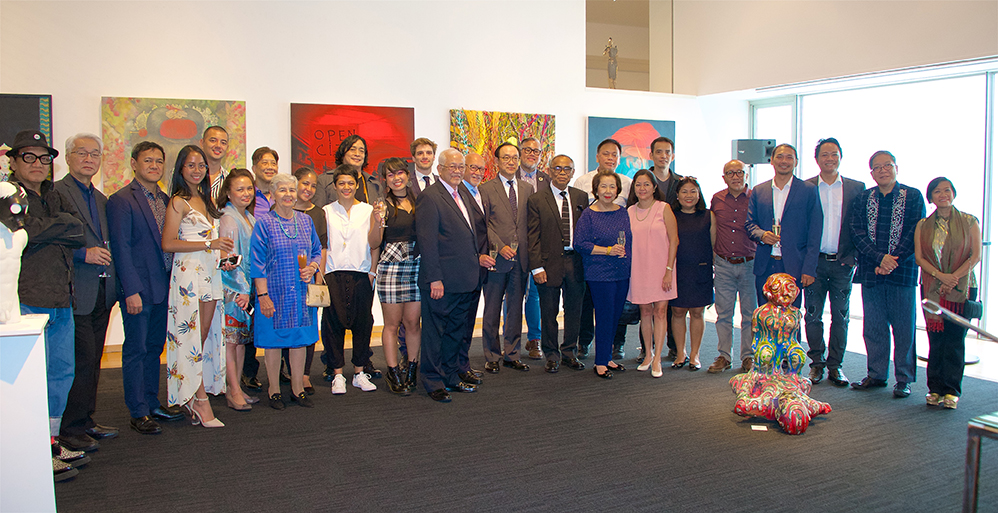 PinTokyo exhibit was organized by Pinto Museum's Dr. Joven Cuanang in partnership with the Asian Cultural Council (ACC) and curated by Antonio Leaño. Philippine Ambassador to Japan Jose Laurel V, national artist Benedicto "BenCab" Cabrera, fashion designer Rajo Laurel and members of the Consulate and Filipino community graced the opening ceremony.
During his remarks, Cuanang said that the exhibit was dedicated to "the memory of Jose Rizal, Rizal, being a man of many interests and having touched base with a lot of people in the world, echoing what we're doing in our small way."
Laurel expressed his jubilation that artworks made by Filipino artists were given the spotlight in Japan.
"I am very elated, honored that the Philippine artists are finally here in Japan," he said.
"It is a pleasure, a great privilege to grace this exhibit because these are the times where we can show the very talents of Filipinos and we can exchange cultural values. It will be a stepping stone for greater relations between our Japan and the Philippines," he added.
Participating Filipino artists in the exhibit were Ambie Abaño, Arnica Acantilado, Salvador Alonday, John Paul Antido, Agnes Arellano, Candice Arellano, Welbart Bartolome, Igan D' Bayan, Jana Benitez, Elmer Borlongan, Annie Cabigting, Ninel Constantino, Dansoy Coquilla, Jigger Cruz, Marina Cruz, Kawayan De Guia, Anton del Castillo, Daniel dela Cruz, Demetrio dela Cruz, John Paul Duray, Dexter Fernandez, Nona Garcia, Emmanuel Garibay, Sandra Fabie Gfeller, Eleanor Giron, Guerrero Habulan, Ronald Hilario, Geraldine Javier, Dondon Jeresano, Antonio C. Leaño, Erwin Leaño, Romeo Lee, Joven Mansit, Ferdinand Montemayor, Jason Moss, Raffy Napay, Leeroy New, Gemiliano Orencio, Shannah Orencio, Anthony Palomo, Lynyrd Paras, Ian Quirante, Sherwin Sacramento, Jaypee Samson, Jerson Samson, Reynaldo Samson, Jose Santos III, Brave Singh, Yasmin Sison, Dexter Sy, Rodel Tapaya, Wire Tuazon, Mark Valenzuela, Elias Miles Villanueva, Crispin Villanueva Jr., and Jay Viriña.
This article was originally published in Filipino-Japanese Journal July 2018 issue.
(Photographs by Din Eugenio)