TOKYO/MANILA – Filipino-Japanese Journal (FJJ) has won one of the 19 prizes at the 2021 Migration Advocacy and Media (MAM) Awards for its reporting on Japan's provision of the antiviral drug Avigan to the Philippines for clinical trials against COVID-19.
The article, "Japan to Provide Free Avigan to Philippines," by FJJ editor-in-chief Florenda Corpuz, which was published online on April 30, 2020, bagged the Interactive Media Award for the Best Website category, the Commission on Filipinos Overseas (CFO) announced on Dec. 17.
The MAM Awards acknowledged FJJ and the other awardees "for raising public awareness on issues on Filipino migration, advocating for Filipinos overseas, and/or promoting a positive image of overseas Filipinos despite the challenges brought about by the COVID-19 pandemic."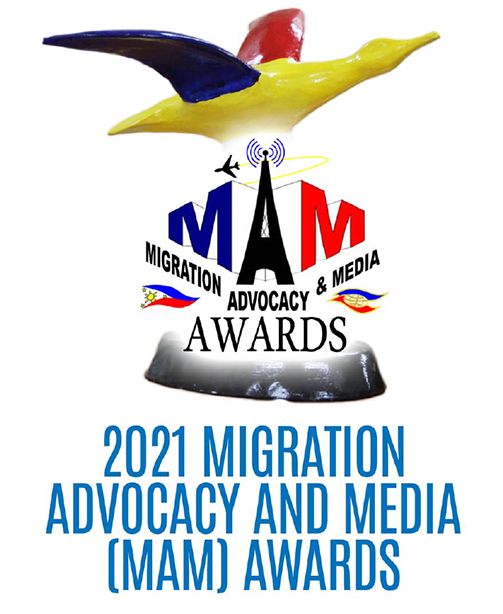 The winners were selected by the MAM Awards panel of judges chaired by CFO Acting Executive Director Atty. Wendell Dimaculangan. Panel members were Philippine Migrants Rights Watch (PMRW) Vice-Chair Carmelita Nuqui, Philippine Migration Research Network (PMRN) Convener Prof. Stella Go, Presidential Communications and Operations Office (PCOO) Director Atty. Tristan De Guzman, Filipino Academy of Movie Arts and Sciences Awards (FAMAS) President Francia Conrado, and Philippine Information Agency (PIA) Director Karl Louie Fajardo.
Conceived in 2011 by the CFO, the MAM Awards aims to recognize the significant role of the media in information dissemination and advocacy of migration and development. Since its launch, a total of 80 media reports, productions, and advocates from 18 countries, including Japan, have received the award.
This year's awardees will be honored by the CFO in a blended ceremony in January 2022 with Secretary Francisco Acosta presiding. - FJJ