TOKYO – ANA Holdings Inc. (ANA HD), the parent company of All Nippon Airways (ANA), is investing $95 million in PAL Holdings Inc. (PAL Holdings) for a 9.5 percent stake in the holding firm of Philippine Airlines (PAL).
Under the agreement, ANA HD will acquire the shares from Trustmark Holdings Corporation, which is owned by the Lucio Tan family and is the largest shareholder of PAL Holdings.
According to ANA HD, this investment with PAL Holdings is in line with their mid-term corporate strategy for FY2018-2022, which aims to expand its international group network and strengthen its partnerships with foreign airlines to provide further convenience to its passengers.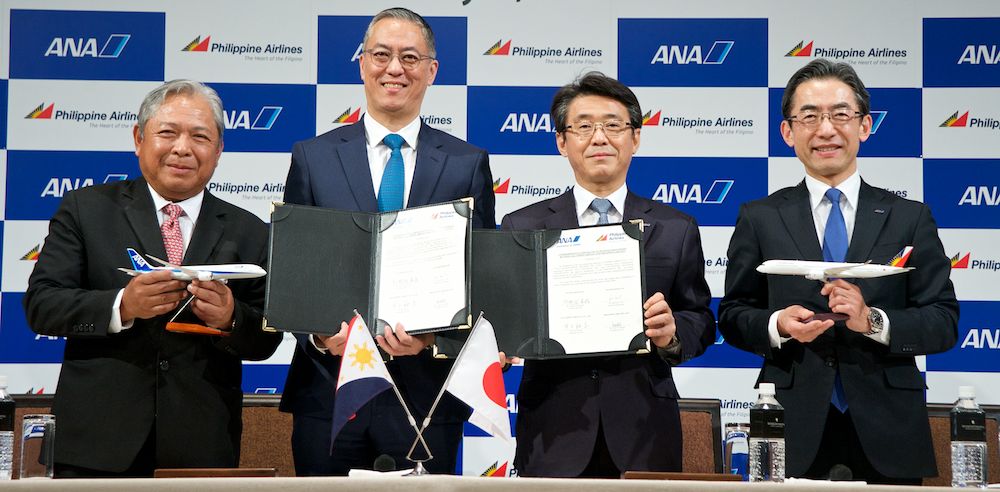 "Having been established in 1941, PAL is the oldest airline in Asia and it is the foremost flag carrier of the Philippines. This year marks the 70th anniversary of its service to Japan, which was launched even before the Japanese carriers started their service on Japan-Philippines route," President and CEO of ANA Holdings, Inc. Shinya Katanozaka said at the beginning of his speech during the business and capital partnership ceremony between the two companies held at ANA Intercontinental Hotel on Feb. 8.
"Lucio Tan Group, which holds stakes in PAL is the Philippines' leading conglomerate operating in wide range sectors including food, air travel, hotel, international services, among others. It is a great pleasure for us to form partnership with such a fine partner with a proud long history," he went on.
Katanozaka noted that ANA HD is "confident in the high potentials of the Philippines" as it stands out in Asia when it comes to the number of visitors to Japan, which he said increased five times over the past five years.
"We look forward to exchanges with Lucio Tan Group and Philippines Airlines to build durable win-win relationship, and hopefully that would take us into further collaboration in various areas in the future," he added.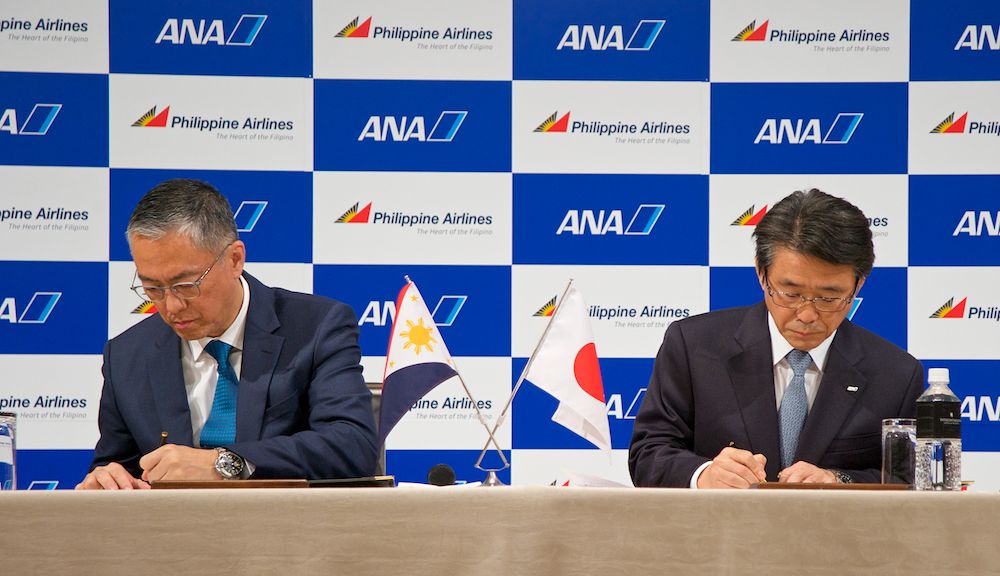 Michael G. Tan, the president of LT Group, Inc. and director of PAL Holdings, shared that "It has been a privilege of Philippine Airlines to serve the Philippines-Japan international market for seven full decades."
PAL first flew to Japan via Manila-Tokyo on Jan. 26, 1949.
"As partner airlines, ANA and PAL share commitment to excellence and passion that is deep and traditional, but also young and modern, and very much focus on the future of innovation and opportunities," he said.
Also present during the signing ceremony were President and CEO of All Nippon Airways Co., Ltd. Yuji Hirako and President and COO of Philippine Airlines, Inc. Jaime J. Bautista.
"We at ANA look forward to learning more about Filipino hospitality to brush up the Japanese way of hospitality. ANA will work even more closely with PAL, which is the only full service carrier in the Philippines to provide services of the highest quality together by working in unison," said Hirako.
As for Bautista, the investment of ANA Holdings in PAL Holdings represents a major breakthrough for relations between Japan and the Philippines.
"We assure you that Philippine Airlines is ready to do our part to build on the solid and worthy foundation that we are celebrating today," he remarked.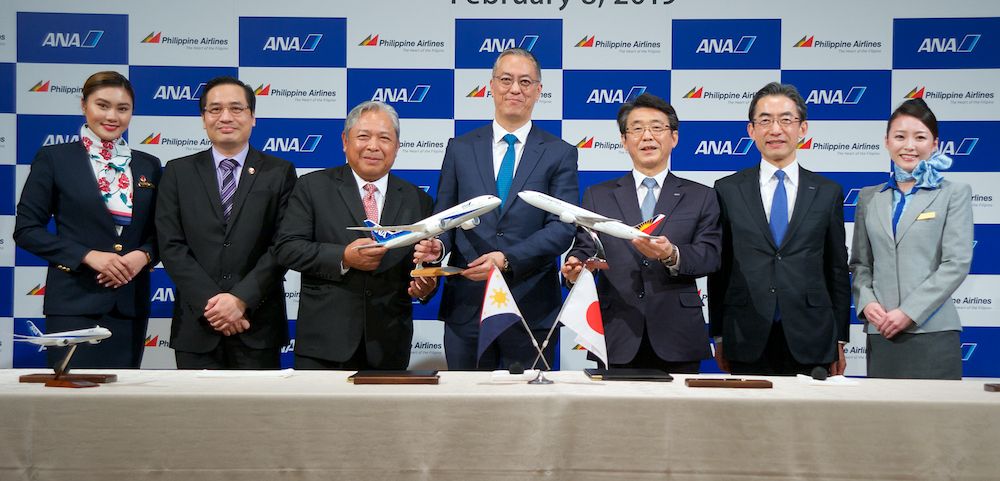 The completion of ANA HD's investment in PAL Holdings is subject to certain closing conditions.
ANA, a five-star airline since 2013, currently operates 14 flights weekly on two routes to the Philippines and PAL, which received its four-star rating last year operates 84 flights weekly on nine routes to Japan. The two carriers have codeshare operations on Japan-Philippine routes and domestic routes within Japan and the Philippines, linking a total of 16 Japanese and 11 Philippine destinations. - Florenda Corpuz
(Photographs by Din Eugenio)