TOKYO – The Philippine Chamber of Commerce and Industry in Japan (PCCIJ) acknowledges the plight of the Filipinos in the face of health and economic adversities brought about by the pandemic. To uphold its goodwill, and upkeeping its ties to advance the relationship of the two nations through international trade and investments, PCCIJ partners with The Filipino Channel (TFC) and ABS-CBN Lingkod Kapamilya Foundation Inc. (ALKFI) for the latter's public service campaign, "Pantawid ng Pag-ibig."
Pantawid Ng Pag-ibig (Bridge of Love) was launched in March 2020 to help bring food to Filipinos who are not able to make a living due to the quarantine restrictions across the Philippines. To date, a total of nearly PHP 447 million worth of goods have been delivered around the National Capital Region (NCR) and other affected provinces with the help of individual donors, partnering organizations, and local government units.
PCCIJ, an organization affiliated with the Philippine Chamber of Commerce and Industry (PCCI), and duly accredited by the Japan Ministry of Economy, Trade and Industry and the Philippine Embassy in Japan, understands the challenges of the "new normal" and has responded accordingly.
"Traditionally, the PCCIJ would hold face-to-face meetings and seminars. Now, we are bringing these events online. From our board meetings to online webinars for our corporate and individual members," shares PCCIJ Chairman Allan Reyes.
With the partnership with TFC and ALKFI, PCCIJ aims to be a bridge between Japan and the Philippines. They hope to achieve this through raising awareness, and opening opportunities for good-hearted folks to extend their support to those in need back home.
To kick-off the tripartite collaboration, PCCIJ officers Reyes, Roderick Enriquez (Vice Chairman and PNB Managing Director First Vice President) and Tomoyuki Nagao (Vice Chairman and Philippine Airlines Country Manager-Japan) together with TFC representatives Chereneth Joy Perez (Territory Sales and Distribution Head) and Marx Mella (Area Manager-North Asia) held a ceremonial awarding of initial donation worth JPY 100,000 (PHP 45,680) last Aug. 14 at the Philippine National Bank office in Tokyo.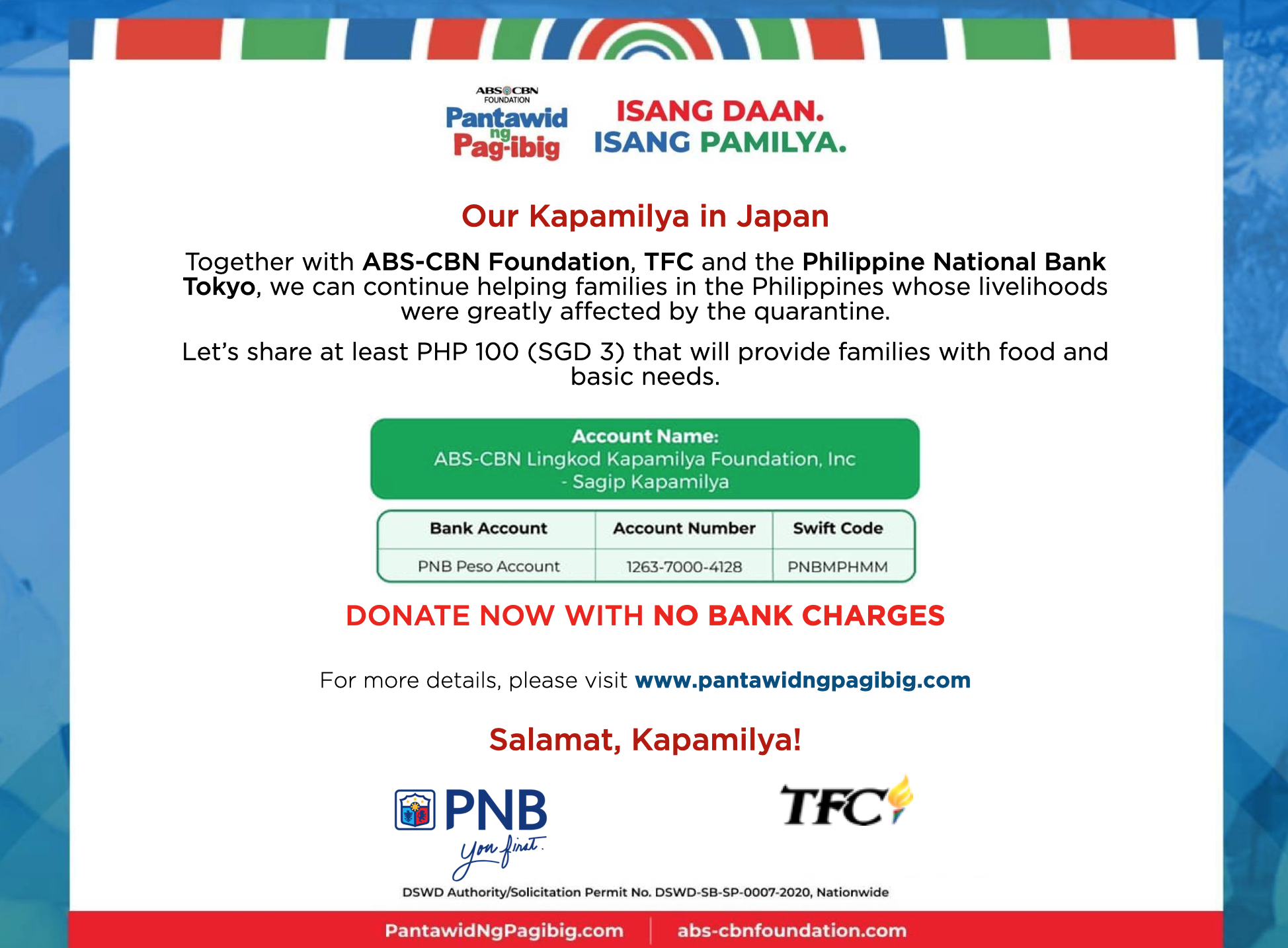 In addition, PNB has boosted PCCIJ's support to Pantawid Ng Pag-ibig by waiving the remittance fees of donations made to the campaign.
"We would like to express our heartfelt thanks to our dear friends at PCCIJ who extended so much of their resources and efforts to help our Kapamilyas greatly disadvantaged by this crisis. I encourage our fellow Filipinos here in Japan to take this opportune occasion to send their donations to Pantawid ng Pag-ibig through PNB," says Mella.
For more updates on Pantawid Ng Pag-ibig and TFC in Japan, visit pantawidngpag-ibig.com, mytfc.om and facebook.com/TFCAsia. - PR